History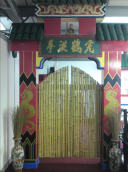 The style of Hung Gar Kung Fu originates from the Shaolin Temple in China and is one of five main styles of Kung Fu, and is also sometimes known as Chinese boxing.
This style of Kung Fu is one of the main styles practised in southern China. It was brought to Liverpool by Sifu Jimmy Chan (Tan Wai) in 1975, and has since passed onto Sifu Stephen Ornellas in 1989 after Jimmy Chan's death.
The club originally started in a chinese restaurant with lessons being taught before the restaurant opened. It then moved to a room above another restaurant before being situated for 30 years in Seel Street - 10 years on the ground floor and 20 years in the basement. Due to a change in circumstances the club has now moved to its new home in Bridport Street, still in Liverpool city centre.
The club has grown in strength since it formed in 1975, starting with only a few students it now has a membership of over 100 students.