The Hung Gar Style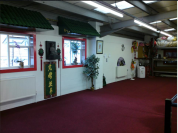 The style of Hung Gar Kung Fu is based on 5 animals - Tiger, Crane, Leopard, Snake and Dragon - and 5 elements - Earth, Fire, Gold, Water and Wood.
All aspects of the style are taught from the lion dance, instruments, meditation, weapons and medicine, but only as your length of training and fitness increases, and as Sifu considers you ready.
There is a lot to learn and understand in this style - for those who want to. Different aspects of the style can suit different people, some enjoy the forms, others the sparring, and with others it is the showmanship of the lion dance and the displays we do. You can learn as much, or as little as you want, but there is always something within this style that suits everyone.